Shea Network Ghana Conference and African Cosmetics Exhibition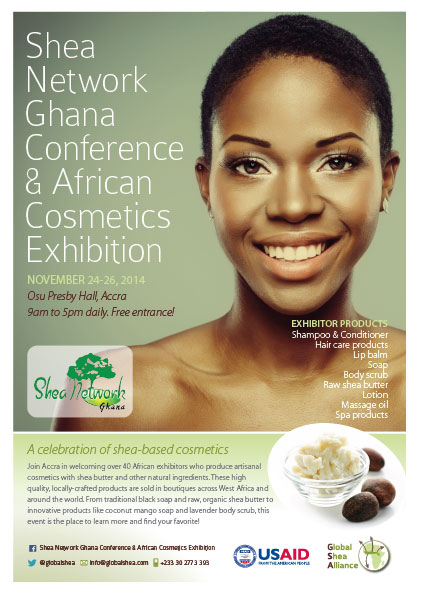 The Global Shea Alliance is pleased to support the 2014 Shea Network Ghana Conference & African Cosmetics Exhibition. The event will take place on November 24-26, 2014 at Osu Presby Hall in Accra, Ghana. The Global Shea Alliance seeks to support the GSA national associations and is excited to welcome you to Accra.
The demand for cosmetics is growing in Africa, and manufacturers are responding by creating products made with African ingredients and desirable by global consumers. The African Cosmetics Exhibition will bring together 40 national and regional manufacturers and over 1,000 attendees, including cosmetic manufacturers, salons, grocery stores, retailers, local businesses, government officials, media partners, and general consumers. From traditional shea butter to innovative products like coconut mango soap and lavender body scrub, this event will be the place to learn more and showcase beauty products that are made in Africa with traditional African ingredients.
The event is free and open to the public from 9am to 5pm each day. For more information or to register as an exhibitor, please email info@globalshea.com and info@sheanetworkghana.org.
Registration for exhibitors can be found here. Keep your eye on our Facebook event, too!
This event is supported by the U.S. Agency for International Development.
Event Details
Accra, Ghana